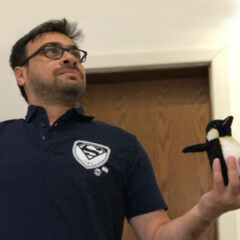 Utkarsh Agnihotri
Character Artist/ Rigger/ 3D Generalist
Darmstadt, Germany
Summary
Creating realistic characters is my passion. I have gained experience in modeling, texturing, rigging, performance capture, and simulation using various tools to achieve this goal. Additionally, I have 3+ years of experience in Maya/Zbrush, 2 years of experience in Substance Painter, and 1-year experience in Performance Capture. I completed my contract of working as Junior Artist in Luxx Film, Stuttgart where my main responsibility was to create character rigs using Blender. Currently, I am looking for job opportunities as a 3D Artist and Character Rigger.
Skills
Character Modeling
Creature Modeling
Digital Sculpting
Rigging
Texturing
Motion Capture
Cloth Simulation
Python Scripting
Software proficiency
Productions
Movie

Digital Human - Pratyush Agnihotri

Year

2019

Role

FACS Blendshape sculpting/Face Rigging/Texturing/Shading/Face Capture

Company

Bachelor Project

Movie

Penny

Year

2019

Role

All aspects

Company

Academic Project
Experience
Rigger at Traumhaus Studios

Erfurt, Germany

Worked as a Maya and Blender rigger for upcoming animated feature film

Worked as a rigger for Licht An! Season 2

Junior Artist at Luxx Studio / Luxx Film

Stuttgart

I worked in Luxx Film as Junior Artist and my main responsibility was to create rigs for characters as well as help with integration of Blender in new pipeline of the studio. In the pipeline, I use Blender to create character rigs for the pre-production of the animation film Tafiti. I rigged the main characters Tafiti (Meerkat) and Pinsel (Red river hog) for the teaser of the movie as well as secondary characters like snake and beetle.

Summer Internship at metricminds

Frankfurt, Germany

April 2017 - September 2017

As an intern, I was responsible for cleaning motion capture data and assisting during motion capture shoots. Additionally, I worked as a set runner during motion capture shooting as well as learned about planning the shoots and staging the animation. During my internship, I worked as a set runner for motion capture shoots of Horizon and Surge. Additionally, I also cleaned motion capture data of Limbic mars project, STC project resonance, and Screenday.